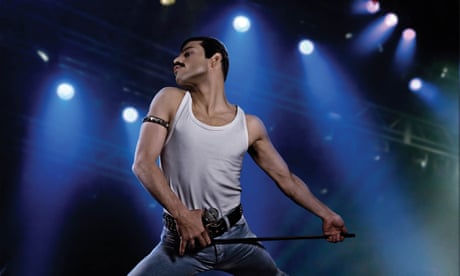 Rami Malek as Mercury
A 90-second trailer for the long-awaited and trouble-hit movie biography of Freddie Mercury,
Bohemian Rhapsody, has just been released ----and it is already causing controversy.
Sacha Baron Cohen, who was originally set to star as the flamboyant Queen frontman, backed out saying the movie appeared to be more about the successes of Queen than about the extraordinary and often X-rated life of Mercury.
And while the trailer demonstrates that Rami Malek does an outstanding job as Mercury, it also shows nothing of his private life.
Because the surviving members of Queen had to approve it, the movie seems centred on the band and steers clear of Mercury's incident-filled life as a gay icon and his struggle with AIDS.
Not a word of dialogue is spoken in the trailer that doesn't pertain to the music of Queen: nothing of Mercury's love life, no illness, no emotion, nothing dangerous or overtly queer to offend anyone.
According to one critic: "The whole thing has the flavour of something strenuously queerwashed, which has removed everything wild and interesting about Mercury. This trailer would appear to presage a film with no interest in sounding the ambiguities of his life, the abrasive queerness of his perspective, the virulence of the homophobic press in their attacks on him – what, in a word, made him tick."
Personally I hope the movie is good and is a big success because it has been produced, after a long struggle, by Graham King, a good friend of mine and fellow Chelsea supporter. He is certain it will fulfill audiences' expectations.

"This is a story that has something for everyone," he says. "Freddie Mercury connected like only a handful of performers have ever done."

Bohemian Rhapsody is due to be released on November 2.
Instagram: @beachscribe